The Best Hair Products to Use for Bridal Hairstyling
Are you in the process of planning your wedding and trying to figure out what type of hairstyle you want? You're probably wondering if you need to use a special kind of product for your bridal hairstyle. The good news is that any hair product will work well for a bride, whether it's a hairspray, mousse, or gel. However, choosing the right product is important, so your hairstyle looks its best on your big day. Here are some tips on how to choose the right hair product for your bridal hairstyle.
Pre-wedding hair product for every hair type
When it comes to hair products, there are so many different types and brands out there. As a result, it can be hard to know which ones to use for your bridal hairstyle. But don't worry, we're here to help! Here are some of our favorite hair products to use for a beautiful, stylish wedding day look:
Volumizing mousse is perfect for adding body and fullness to your hair. In addition, it'll help give your hairstyle some extra lift and hold, making it last all night long.
Finishing spray is ideal if you're looking for a little extra shine. It'll help give your hair a gorgeous glossiness that will make you look like a radiant bride.
Curl-defining cream is a must-have for any bride with curly hair. It'll help tame frizz, add definition, and give your curls a beautiful bounce.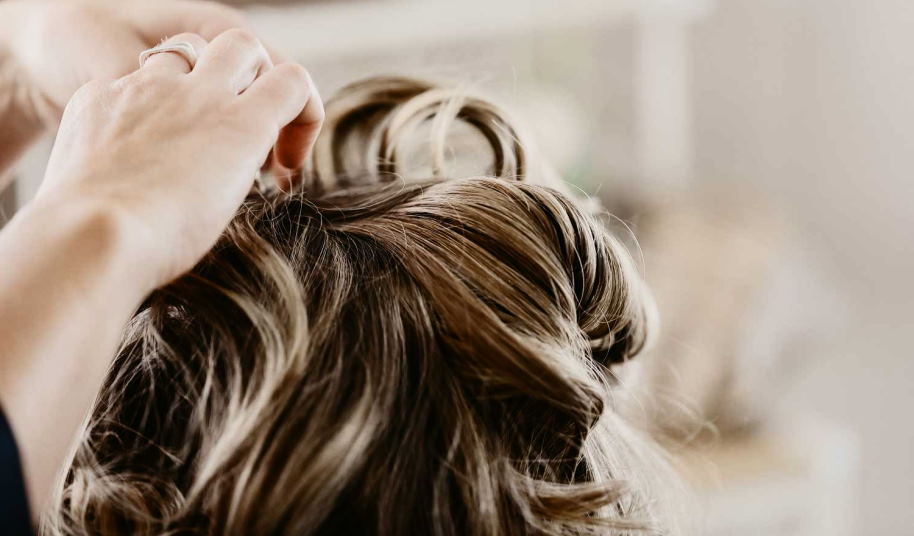 Dry shampoo is perfect if you want to add some extra volume and texture to your hair. Just spray it on at your roots and massage it in for instant results.
Heat protectant spray is essential for keeping your hair healthy and protected from heat damage. Use it before you style your hair with hot tools to help reduce the risk of breakage and split ends.
With these hair products in your arsenal, you'll be able to create any bridal hairstyle you desire! So don't wait, start shopping for your wedding day look today.
Must-have products to make your wedding hair last all night
When it comes to wedding hair, you want it to look perfect from the ceremony to the reception. But, with all the dancing, kissing, and general merry-making that goes on at weddings, sometimes your hair can start to look a bit… less than perfect.
Fear not! We've put together a list of our top products to help keep your wedding hair looking gorgeous all night long.
A good hairspray
A strong hold hairspray is an absolute must for keeping your wedding hairstyle in place. Spritz it on liberally before you leave for the ceremony and throughout the night whenever you need a touch-up.
A portable hair brush
Even if you're not planning on doing major touch-ups to your hairstyle during the night, it's always good to have a hairbrush on hand in case of any small emergencies.
Bobby pins
Bobby pins are every girl's best friend – especially on their wedding day! If your updo starts to look messy as the night goes on, pop a few bobby pins in to neaten it up.
A mini hair straightener
If you're planning on wearing your hair down on your wedding day, then a mini hair straightener is a must-have in your wedding day emergency kit. A mini straightener will come in handy if you need to touch up your roots or smooth out any flyaways.
A bottle of water
Believe it or not, keeping a bottle of water with you on your wedding day can help keep your hair looking good! If your scalp starts to feel dry at night, spritz some water on and massage it in – it will help keep your hair looking hydrated and healthy.
So there you have it – our top 5 product picks to help keep your wedding hair looking perfect all night long!